For the sixth HSF challenge I made a cap and an apron for a small country boy in 19th century Sweden. After swaddling (still very much in use amongst country people in Sweden at this time) was over, boys and girls were dressed in long gowns, called kolt in Swedish. To this day toddlers are still called "koltbarn" (barn = child) sometimes. I used little B's 14th century cotte from last year, which still fits well enough, though a tad short. The kolt was worn with a cap tied under the chin (the same kind of cap that had been worn from birth) and an apron.
These three dress elements were used by both boys and girls, but the construction was different. Girls koltar had a gathered skirt sewn to a bodice, a cap constructed from one piece reaching from forehead to nape of neck, and two sidepieces, and an apron tied at the waist, like their mothers'. Boys koltar on the other hand were cut in one from the shoulders, their caps were constructed from 4-6 gussets, and their aprons had bibs. To most people today they'd all look like little girls, but a person of that time and place could tell one from the other at a glance.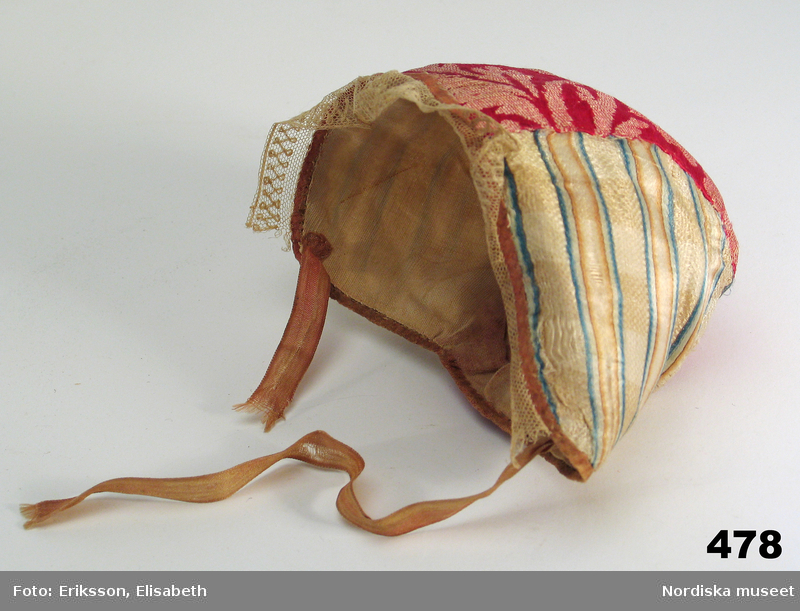 middle piece, and two side pieces,

c. 18

10-1830.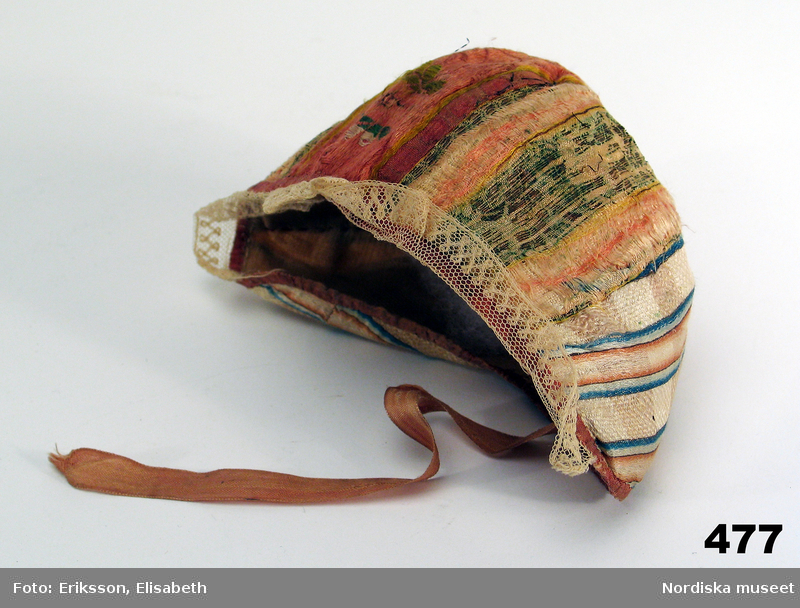 It matches the girl's cap above - where they made before baby was born, or for twins?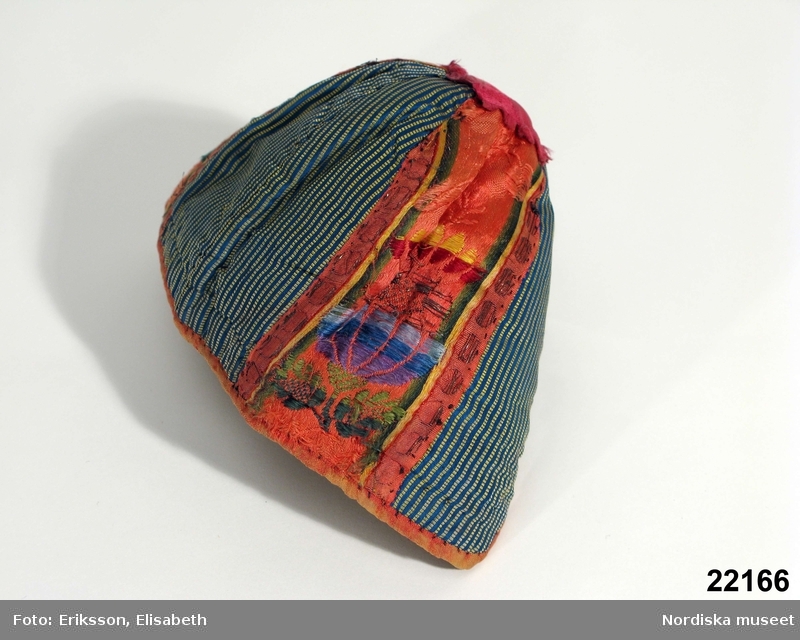 Not much is known about everyday clothing of these children – the few surviving garments are all for festive occasions, and most are from the county Dalarna (Dalecarlia), as the people there kept their traditional way of dress longer than most others in Sweden. This means you have to think one extra time - is this typical of children in Sweden, or typical of children of Dalarna? Most extant caps are christening caps, and as such, are made from the most expensive materials the families could afford. I, who wanted a simpler outfit for my little lad, had to guess what to use.
For the cap I used cotton scraps I had in my stash. Seeing more than one fabric in these caps is very common, so I decided to do that. One is a sort of plaid, the other striped (scraps from making a baby wrap, that have seen much use, first with my youngest brother, and then with little B), the lining is a striped, much worn kitchen towel. I decided to put a stitched down tuck over each ear, for better fitting: I don't know if it's period, but it looks all right. The cap is bound with cotton tape from my stash, and the ties are made from the same.
The apron is made from an old pillowcase with woven in stripes (as stripes were so typical in aprons among the commoners here in the 19th century) that I bought at a charity shop. The ribbon used for ties is woven for the purpose – I had the yarn at home.
I have a loom for weaving ribbons, but it's in storage, and how I miss it! For making the ribbon I had to figure out something else. I decided to make a rigid heddle. I want a real wooden one, but that's not a priority at this time, so I had to make do with an improvised one, made from a milk carton and a couple of pencils.
It worked tolerably well, except that the pencils kept escaping. Now that I've used one (poorly constructed though it was) I really want a real one! It was such a pleasure to work with.
The skirt part of the apron is pleated to the waistband, and the bib sewn in flat. A loop around the neck holds it in place, just like in originals.
The Challenge: #6 Stripes
Pattern:
None, draped my own.
Year:
About mid 19th century. If made from wool, they could be earlier.
Notions:
Waxed linen thread, cotton/linen yarn for weaving, cotton tape.
How historically accurate is it?
Tolerably, though I had to guess a whole lot. At least it's hand sewn with period stitches.
Hours to complete:
Good question…maybe 10 hours total, including the weaving.
First worn:
The apron has been worn several times when B has been helping me baking, the cap was first worn for the pictures.
Total cost:
10 SEK ($1,5, £1,
€1,2)
for the apron fabric, the rest was scraps from my stash, including the cotton tape.
And all that work just so that I can have a companion when being photographed in my common women's dress for challenge 10....